Essential Real Estate Agent Marketing: The Pro Guide To Growing Your Business
By Izaak Crook @ Small Business Marketing
Trust and reputation are the lifeblood of estate agents. It's very important to have a comprehensive online presence because that is what helps build confidence in your brand. This guide will walk you through the essentials of real estate marketing.
Positioning
Your marketing journey begins with a simple question: How will prospective clients find my business?
Make a list. Will they…
Walk by our offices and pop in to browse property displays?
Search for 'estate agents near me' on Google?
Ask friends for recommendations?
Search on social media?
Consult an online (or, shock horror, offline) directory?
The idea is to build up a picture of what your prospect's brand discovery journey looks like.
Understanding the customer journey
A good way to conceptualize this is with a tool called a sales funnel, which you may be familiar with. It basically looks something like this: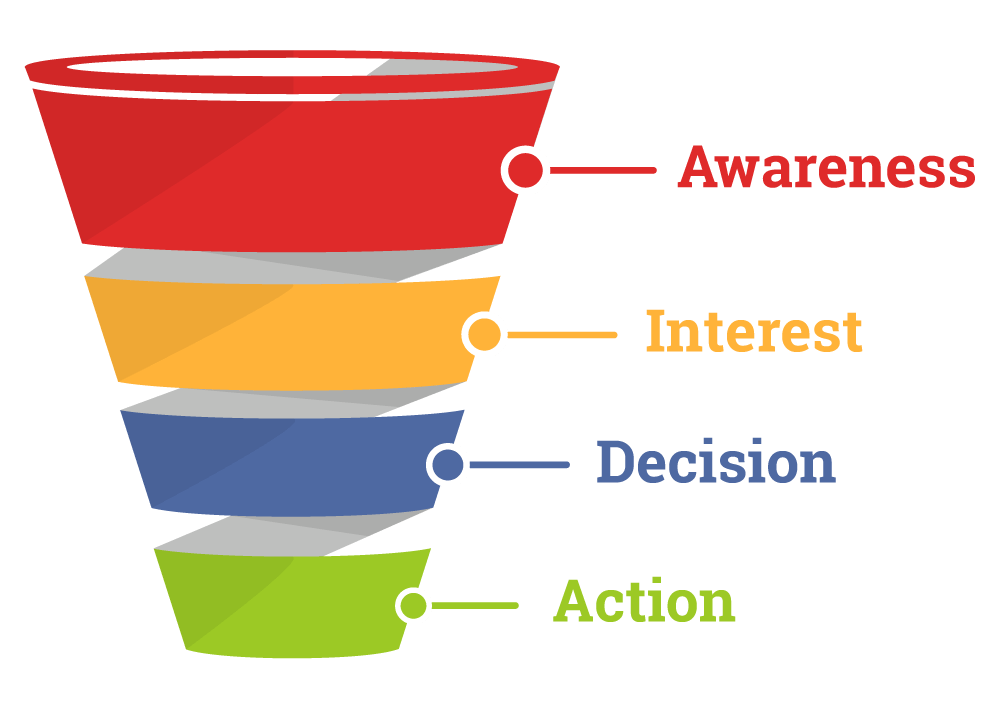 Map the sales funnel or customer journey to your specific niche. It might look something like this:
Awareness – the prospect (prospective client) becomes aware of your brand, and probably a range of other brands in your niche as well.
Consideration/ research – depending on their needs and how important the decision they are making is, prospects will spend some time looking at various brands before making their choice. They may even reach out to a few different agents. During this stage, they are likely to be reading your online content, primarily your website, but possibly your social media accounts too. They haven't made contact yet but may end up signing up for your newsletter or downloading any brochures or supplemental content you have.
Contact – this is the point at which prospects reach out to you. You will need to make sure you provide all the info prospects need to make an informed decision; bear in mind that how you deal with these interactions will have an impact on their eventual actions. The point is, you're still marketing at this stage.
Sales and follow up – the main phase of your marketing is over at this point; you have "onboarded" a client. But you want to make sure you nail the follow up so they will leave you a nice review and recommend you to friends and family.
So we can boil the above points into 6 key stages prospects will go through:
Search for an agent
Consider 4-5 options
Select agent
Make sale or purchase
Build customer loyalty
Recommend your service to others/ repeat custom
It should be clear that your marketing efforts are an ongoing process that addresses the audience at each stage in their customer journey. This is especially important for an industry that is essentially about relationship building.
Marketing on search engines
The best way to design your marketing plan is to go through the search process yourself and take stock of what your competitors are doing in that space; then you can work out how you too can get in on the action. Let's say we're looking for an estate agent in the Manchester area. So we jump on Google…
Search engine ads
Notice how the first thing we see is a bunch of paid ads. I'm sure many of us have the experience of skipping over these ads to the "organic" search results section of the page, but that would paint a misleading picture of how such ads work. In fact, WordStream research has shown that people click on promoted ads over organic listings by a 2:1 ratio, but only when those ads offer high commercial value, such as goods or products for sale, versus informational searches.
PPC is a good way to give your SEO efforts a helping hand up the rankings and is worth considering, although it's not a shortcut; you still need to manage keywords effectively and structure your ads in an optimized way.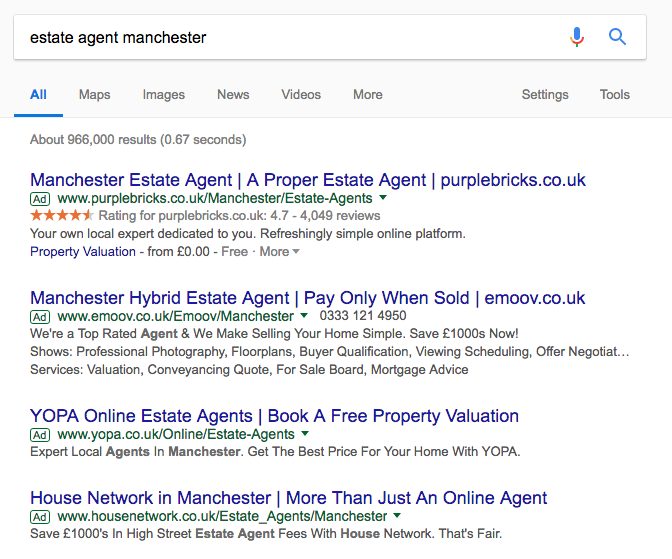 Notice you get very little space to make your brand stand out, and with so many rival agents on the market, positioning is very important.
The header does a lot of work here so you should pay attention to it. Your header should really have the phrase 'estate agent' in it, as in the above examples. It should also contain the value proposition you want to lead with. A couple of good ones from the above are:
"Pay only when sold"
"Book a free property valuation"
This one's quite interesting: "A proper estate agent." It hints at the idea that a lot of estate agents have a bad rep, but this implies that with this brand you will get a quality service. It all depends on what you consider your main USP and who you are targeting. You should make sure your domain URL is coherent, too…
The URL should reinforce your header and look professional (so no .wordpress URLs). The above example is good; the URL includes the brand name and shows that this is a national chain of agents (linking to their Manchester section of the site) and featuring the phrase "estate agents". Next up, you get a short meta description. These are probably the best ones from above:
"Your own local expert dedicated to you. Refreshingly simple online platform." The above signifies an easy to use, personalized and caring service
"Save $1000's In High Street Real Estate Agent Fees With House Network. That's Fair." This emphasizes the high level of savings on offer and references the idea of "fairness", which may reassure prospects fearing cutthroat enterprises.
"We're a Top Rated Agent & We Make Selling Your Home Simple. Save $1000s Now!" This hints at their brand reputation and crowbars in the savings they can deliver. It may be a bit crude, but it's effective. Basically, prospects need to know what you can do for them.
Google Business and maps
Next up in our Google SERP page we have the Google business listing, pulled from Google maps.
In the unlikely event, you are not registered with Google Business you should do so right now. It's straightforward, speedy, and free, and it's the only way to get your estate agent listed in Google maps.
After the paid ads, we get the maps results. You need to make sure your Google Business listing is properly filled in, including crucial details such as contact info, business hours and website URL. Avoid having duplicated content like multiple phone numbers and addresses; Google needs to know you're a legit company with a physical address and aren't gaming the system in some way.
You also need to get as many positive reviews as you can; basically, anything that will boost the credibility of your business in the eyes of Google (which is fairly sophisticated and makes similar judgments about legitimacy as humans do).
You get to add keywords that define your business type; one prime tag and five additional ones. Your prime tag should identify you as an estate agent, but you should use the remaining 5 to target local SEO keywords, such as "Manchester Real Estate agent", for example.
You should also make sure you upload high res photos that show your services in their best light. Google likes images (and guess what, so do people) and will use them as a guide to how legitimate your listing is.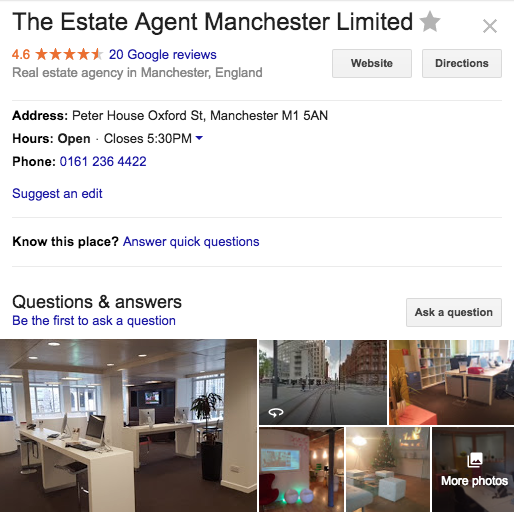 The photos for The Real Estate Agent Manchester don't exactly blow us away. Better are the photos for the colorfully named Briscombe, Nutter and Staff:

These images show off the storefront exterior via street view, show us some pretty locations and demonstrate that the firm has friendly staff on hand to help you.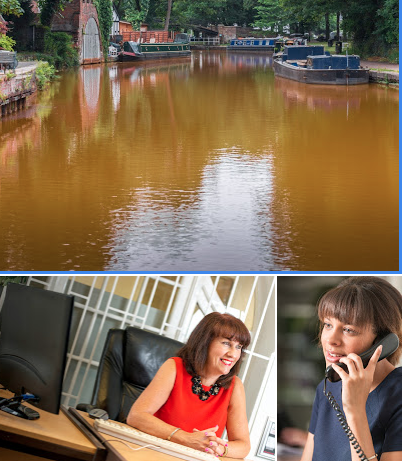 It's well worth hiring a photographer for a day to take high-quality snaps of your offices and staff; it's really important that prospects see you as open and approachable and there to deliver a hassle-free customer experience.
Marketing on alternative search engines
Despite Google's ~80% market share, it's definitely worth trying to rank your site in alternative search engines like Bing or Yahoo.
Bing is used by people in an older age bracket (typically 55-64) and the audience for their ads have an average household income of over $100,000. They also spend 22% more per search than other search engine users Bear in mind that as a real estate agent you will frequently have dealings with affluent older clients and so it's worth considering buying ads on alternative search engines.
SEO and keywords for estate agents
Whether using Pay Per Click (PPC) or organic search, you need to get to grips with the right keywords to target. You can jump on Wordstream's keyword planner tool to see a list of ten top search terms for your niche for free.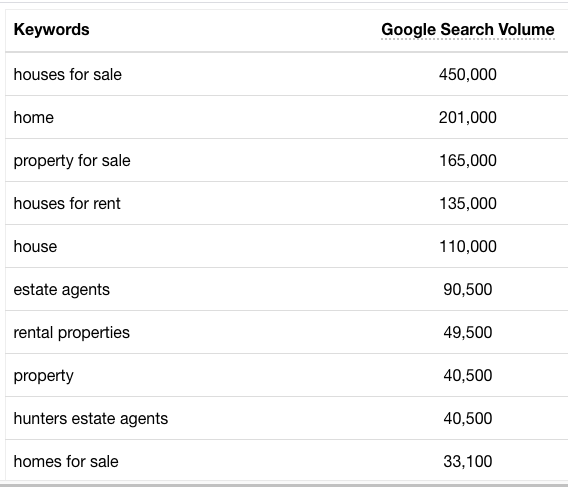 You want to pick the keywords that active buyers/sellers are likely to be using, such as "houses for sale" and "real estate agents" and also try and target high volume words ("houses for sale" has a much higher search volume than "homes for sale"). Bear in mind, however, the higher the search volume of keywords, the more they'll cost in PPC campaigns and the greater the level of competition for those keywords is likely to be.
You should experiment with a few different sets of keywords and measure the responses you get. Check out our essential marketing analytics guide for more on measuring the efficacy of your marketing.
Once you have a decent list of keywords you want to make sure that you integrate them into your site's content and metadata in as organic a way as possible. You should at all times think about the user experience. You don't want to club people over the head with your keywords, they should be used to help clarify and inform, and whatever you do please avoid keywords stuffing. Just don't.
Property  sites
Online directories are increasingly common way prospects will come in contact with estate agents.
It's worth taking a look at guides aimed at your audiences and work out what qualities they are being advised to look for in an estate agent. . Notice they advise prospects to research what property portals their house will be advertised on, and recommend the most common ones; Zoopla and Rightmove. Well, it makes sense to get your agency listed on these property portals. It's worth listing on OnTheMarket.com too (they recently scrapped their stipulation barring advertising on multiple portals).
Property portals tend to dominate the Google SERP, so if you can't beat 'em you might as well join 'em.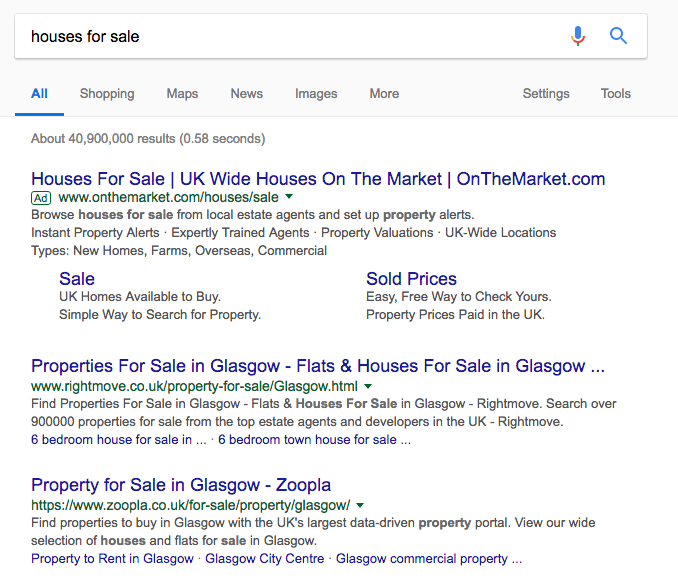 Website optimization
When it comes to online marketing, all roads lead to your website. This is great, but it also means that because it will be viewed from desktops, mobile devices and laptops (often using a range of different browsers) your site needs to be fully up to date and work seamlessly across a range of different user environments.
A good first port of call is to plug your URL into WebsiteGrader.com and get an overall performance score for your site along with a breakdown of your strengths and weaknesses across axes like performance, mobile, and SEO.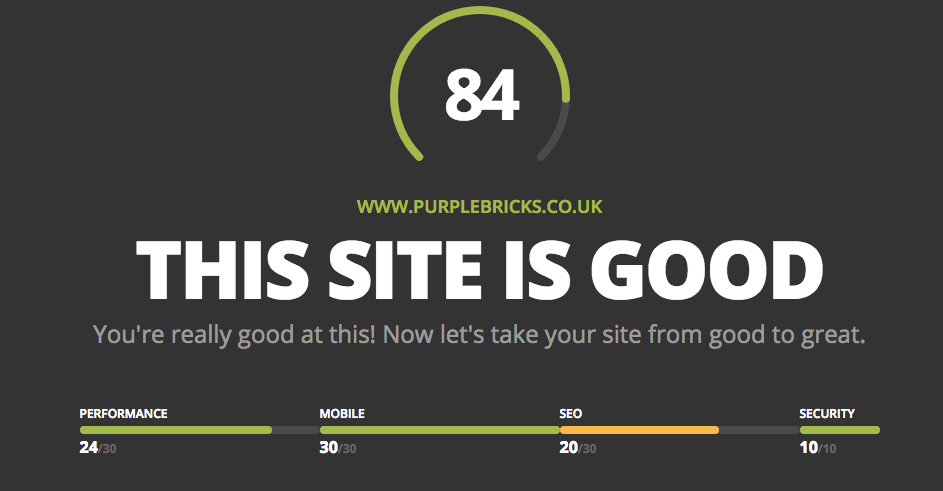 It gives you helpful advice, like monitoring your page load times; anything over 3 seconds will lose your prospects as they abandon your site if it's too slow.
Website Grader will analyze your site's performance across mobile too, which is essential given that mobile dominates online these days.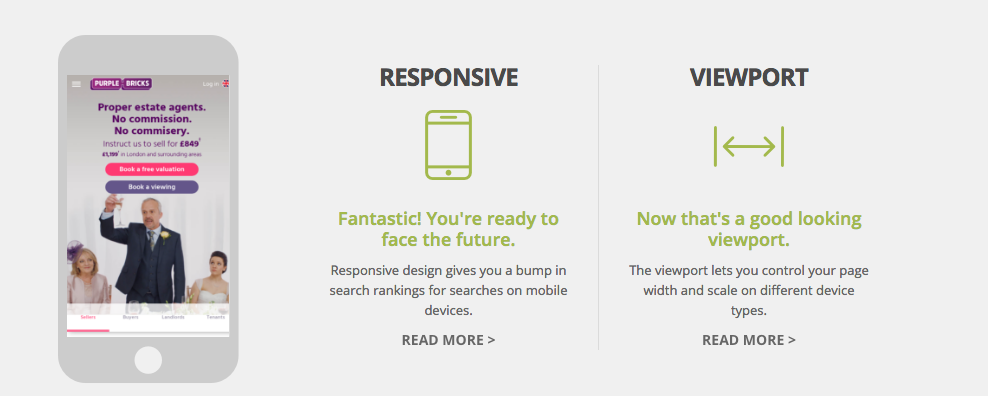 Also helpful is their section letting you know your SEO efficacy. Here are top tips to follow:

Page titles – these must be no more than 70 characters and not repeat keywords.
Meta description – this is the bit of the page that will display on SERPs so it's important that it's relevant to readers, and should be no more than 300 characters.
Headings – these are so often missed in online content, but they not only help search bots categorize your site for users, but also make your content much easier to read; people often just skim headings, so this is your chance to convey your value proposition to your prospects quickly.
Sitemap – making the user experience as streamlined as possible is actually an important aspect of marketing. A site map helps users easily navigate through your site, and it also helps search engines rank your page.
Content marketing and blogs
It's worth remembering that as your clients are making extremely high-value decisions, they are going to want to be as informed as possible. Content marketing is your opportunity to demonstrate that you are masters of your field. Having a blog with regular content will not only increase the search rankings of your site but will help you build confidence with your audience.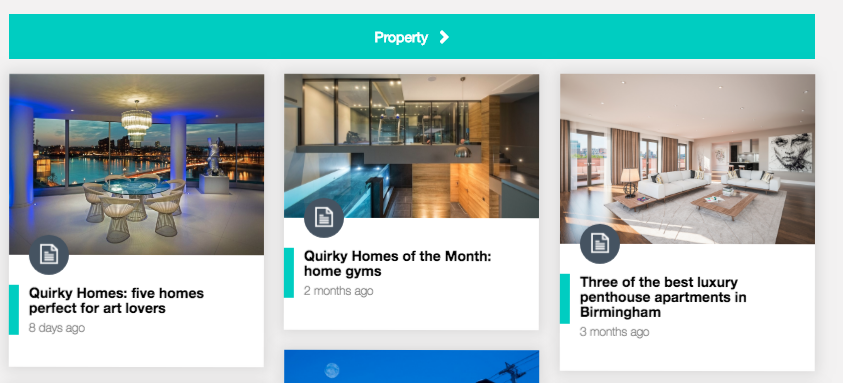 To make it worth your while you should really publish upwards of 4 blog posts per month. Search bots want to see that your site is active and that they won't be linking to out of date content. You're also increasing the likelihood that your SEO keywords will get lots of exposure. Be aware that you should avoid keyword stuffing at all costs. Having multiple blog posts means you can spread your KWs across content, giving you wide SEO exposure.
The quality of your content is especially important. Everyone thinks that they can write, but the truth is that when done properly it's a highly developed skill. You might think you're Shakespeare, but people can tell shoddy content when they see it; these days you can easily find copywriters on sites like Fiverr and PeoplePerHour. It's well worth the investment because content marketing has the benefit of not being as "salesy" as traditional marketing materials, but it's also is an opportunity to position your brand as experts in the eyes of your prospects.
Mobile and apps
There are three main areas of attack when it comes to optimizing your mobile marketing strategy. Make sure your site is 100% mobile friendly and works on both Android, iOS and Windows platforms.
Consider building a Progressive Web App (PWA) for your site. This is a halfway house between a website and a mobile app; offering the speed, offline browsing capability and data caching functionality of apps with the direct access you get from standard URLs. Users don't need to download a PWA, but it will ensure your site works seamlessly on mobile. It's also a good idea to link to your PWA from your social media accounts and wow prospects with an app-like experience including push notification functionality.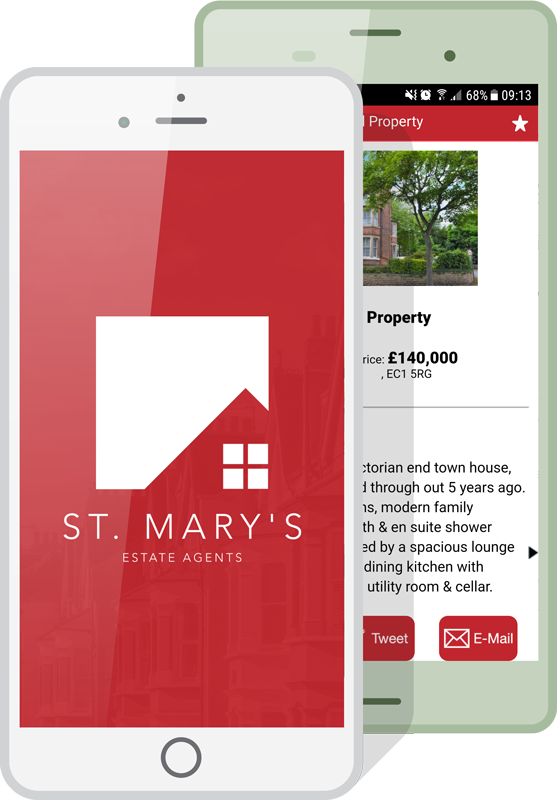 You should give serious consideration to building a full-blown real estate agent app. Native apps take full advantage of smartphone functionality. For all the best of both worlds functionality of PWA's, mobile apps run faster because your device's browser doesn't have to do lots of work accessing online code to interact with your device, it's all there in the app from the get-go.
Social media
The first thing you should think about is which social media platforms work best for your needs.
For real estate agents, some of the most important platforms are Facebook, Twitter, LinkedIn, and Google+. You may also want to use Pinterest or possibly Instagram if you want to share lots of photos of your properties, and Quora is another place you could use to generate real estate leads.
You, of course, don't have to be on every platform on this list, it depends on how much time or money you can dedicate to managing your social media portfolio. You should use each platform differently based on who you are trying to reach out to:
Facebook – sellers
Twitter – sellers and landlords
LinkedIn – sellers
Google+ –  sellers and landlords
Pinterest – sellers
Each social media platform has its own culture and its own specific format. Here are some general principles for building social media accounts… Your profile must look professional; if you're not sure what that means for your niche, check out the social media platforms of your most successful competitors and get inspiration from what they are doing.
Use high resolution, well-shot photos at every stage of the process. Like it or not, people DO judge books by their covers, or to put it another way, people judge social media accounts by their cover photos!
Make sure your account is consistent with your brand; your writing style should be coherent, which is especially important if multiple people manage different accounts. Your social media accounts should reflect your brand voice. Use keywords and tags in your posts and profile info, but don't overdo it, and try and avoid repeating the same keywords multiple times or it will look clunky.
Most social media platforms have the option for using customized URLs, you should take advantage of this and make sure your URL is brand identified.
Have a personal touch on social media
With the exception of LinkedIn which is fairly formal, most social media cultures are quite laid back and casual. Before blasting your posts out there make sure you look at how other users are using the platform, identify what works and what doesn't, and make sure you don't commit any faux pas.
You should help users get to know the people beneath the brand; display team photos, use people's first names where possible, and be as helpful and friendly as possible If you are posting blog content make sure you share it via social media to help boost your search ranking and ensure your brand reaches out on a multi-channel level.
Put theory into practice
We hope this guide will help you kickstart your marketing strategy and has offered a useful framework for reaching out to prospects in a crowded market.
But ultimately, marketing is a learn-by-doing skillset. Don't try and get everything perfect, but make sure you evolve your marketing operation over time. By being thoughtful about how you promote your estate agent brand, you are are already one step ahead of a lot of brands who don't have a coherent strategy in place.
This entry was originally posted on Small Business Marketing